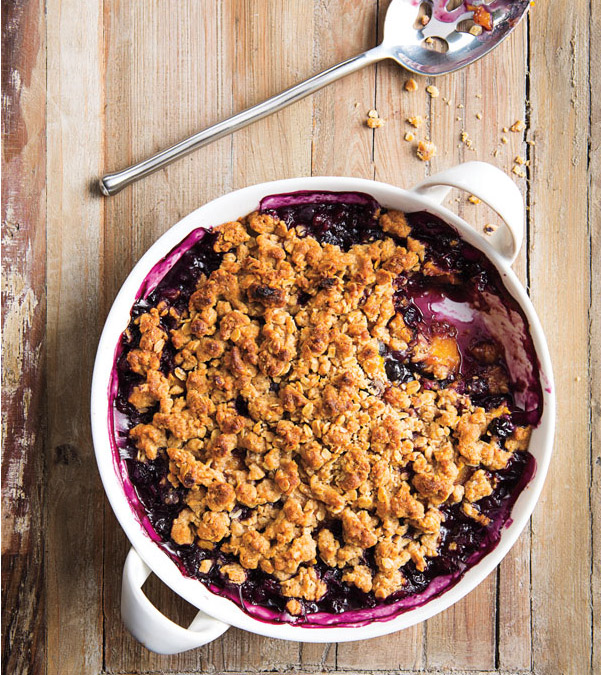 Shop Ingredients Click to See How-To Video!


Blueberry-Mango Crisp
Prep: 20 minutes plus standing
Bake: 40 minutes • Serves: 8
Nonstick baking spray
3/4
cup lightly packed brown sugar
1/2
cup plus 2 tablespoons all-purpose flour
1
teaspoon ground cinnamon
1
teaspoon ground ginger
3/4
cup rolled oats
1/2
cup cold unsalted butter (1 stick), cut into small pieces
1
large ripe mango, peeled and sliced
16
ounces fresh blueberries (about 2-2/3 cups)
1.Preheat oven to 375°. Spray 2-quart glass or ceramic baking dish with nonstick baking spray.

2.In large bowl, whisk together 1/2 cup sugar, 1/2 cup flour, cinnamon and ginger; stir in oats. With fingertips or pastry blender, work in butter until pea-sized crumbs form.

3.In medium bowl, toss mango, blueberries, and remaining 1/4 cup sugar and 2 tablespoons flour. Spread blueberry mixture evenly in prepared dish; sprinkle oat mixture evenly over blueberry mixture.

4.Bake 40 to 45 minutes or until most berries burst, sides are bubbling and top is golden brown; loosely cover with foil if top is browning too quickly. Let stand 10 minutes before serving.


Approximate nutritional values per serving: 

301 Calories, 12g Fat (8g Saturated), 30mg Cholesterol,
6mg Sodium, 47g Carbohydrates, 4g Fiber, 3g Protein

Chef Tip:
Serve warm with vanilla ice cream.