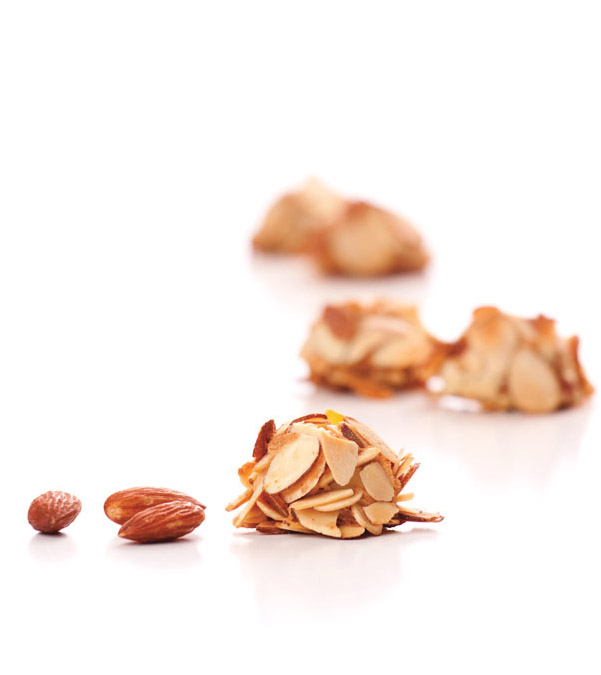 Shop Ingredients Click to See How-To Video!


Almond Macaroons
Prep: 35 minutes
Bake: 44 minutes • Makes: about 30 cookies
Nonstick baking spray
1
can (8 ounces) almond paste
2
large egg whites
1/4
teaspoon salt
2
tablespoons all-purpose flour
1-1/4
cups sliced almonds
1.Position 2 oven racks to upper and lower position. Preheat oven to 325°. Spray 2 rimmed baking pans with nonstick baking spray. In food processor with knife blade attached, purée almond paste, egg whites and salt until smooth, occasionally scraping sides with rubber spatula. Add flour and pulse until flour is incorporated. Transfer almond paste mixture to small bowl; place almonds in wide, shallow bowl.

2.Using 2 spoons, drop about 1 teaspoonful almond mixture into almonds. Working with about 4 cookies at a time, cover cookies with almonds and shape each into a mound. Place 1 inch apart on prepared baking pans.

3.Bake cookies on upper and lower racks 44 to 46 minutes or until golden brown, rotating baking pans between upper and lower racks halfway through baking. Transfer cookies to wire rack to cool.


Approximate nutritional values per serving: 

73 Calories, 5g Fat (0g Saturated), 0mg Cholesterol,
23mg Sodium, 5g Carbohydrates, 1g Fiber, 2g Protein