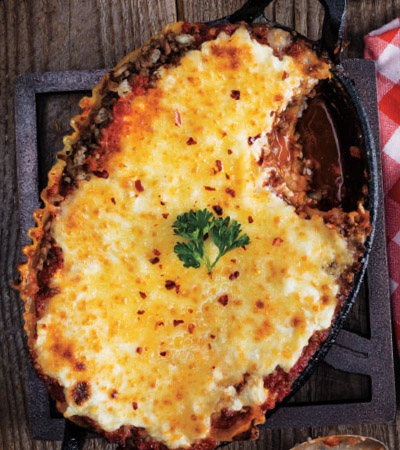 Shop Ingredients Click to See How-To Video!


Skillet Lasagna
Prep: 30 minutes
Bake: 50 minutes • Serves: 6
1
tablespoon
PICS olive oil
1
medium yellow onion, finely chopped
4
garlic cloves, crushed with press
2
teaspoons dried Italian seasoning
1
pound 96% Lean American Heart Association Ground Beef
1
cup
PICS shredded low-moisture part-skim mozzarella cheese
1-1/2
cups
PICS low fat small-curd cottage cheese
1
jar (25 ounces) low sodium marinara sauce
9
PICS no-boil lasagna noodles
(about 8 ounces)
PICS Nonstick cooking spray
1/4
cup
PICS grated Parmesan cheese
Chopped fresh Italian flat-leaf parsley or basil for garnish (optional)
1.Preheat oven to 400°. In 2-quart oven-safe skillet or Dutch oven, heat oil over medium heat; add onion and cook 5 minutes or until soft, stirring occasionally. Stir in garlic and Italian seasoning; cook 30 seconds, stirring frequently. Transfer onion mixture to bowl.

2.In same skillet, cook beef over medium-high heat 5 minutes or until browned, breaking up beef with side of spoon; drain drippings. Transfer beef to bowl with onion. In small bowl, stir mozzarella cheese and cottage cheese until combined.

3.In bottom of same skillet, spread 1/2 cup sauce. Place 3 noodles over sauce, breaking if necessary to fit; top noodles with 3 each of the onion-beef mixture, remaining sauce and cheese mixture. Repeat 2 more layers of noodles, onion-beef mixture, sauce and cheese mixture. Cover with aluminum foil sprayed with nonstick cooking spray or lid.

4.Bake 45 minutes or until noodles are tender. Uncover; sprinkle with Parmesan cheese and bake 5 minutes longer or until top is browned. Serve garnished with parsley, if desired.


Approximate nutritional values per serving: 

473 Calories, 18g Fat (6g Saturated), 68mg Cholesterol,
545mg Sodium, 41g Carbohydrates, 2g Fiber, 34g Protein