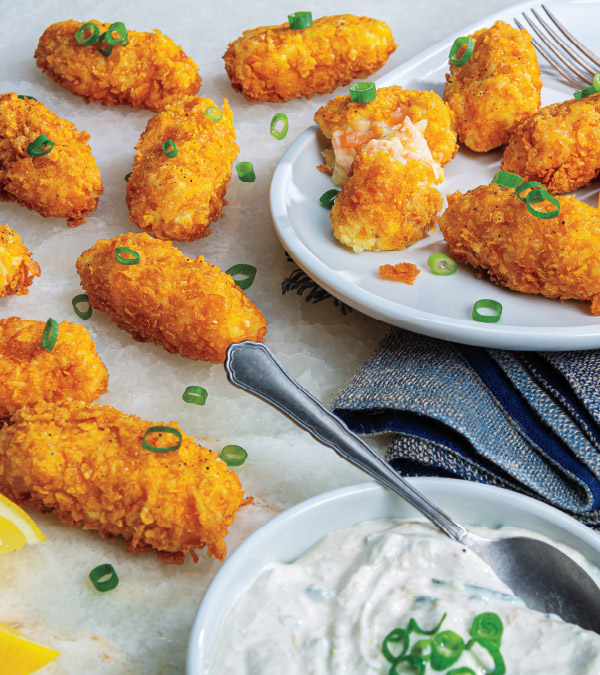 Smoked Salmon Croquettes with Horseradish-Scallion Dip
Prep: 25 minutes plus chilling and cooling
Cook: 15 minutes • Serves: 6
Croquettes
2
medium
Market 32 russet potatoes
, peeled and cut into 1/2-inch pieces
1/2
teaspoon
PICS salt
1
PICS large egg
4
ounces
PICS smoked salmon
, chopped
1/2
cup
PICS cream cheese
, softened
1
teaspoon
PICS ground black pepper
3/4
cup
PICS cornflake crumbs
1/4
cup
PICS all-purpose flour
1/2
cup
PICS vegetable oil
Horseradish-Scallion Dip
3
scallions, finely chopped
2/3
cup
PICS light sour cream
1
tablespoon prepared
PICS horseradish
1-1/2
teaspoons
PICS Dijon mustard
1
teaspoon lemon zest
1. Croquettes: Line rimmed baking pan with aluminum foil; line second rimmed baking pan with paper towel. In medium saucepot, heat potatoes, salt and enough cold water to cover to a boil over high heat. Reduce heat to medium-low; simmer 6 minutes or until fork-tender. Drain; cool to room temperature.

2.In medium bowl, whisk egg; add salmon, cream cheese, pepper and potatoes. Stir with fork until thoroughly combined; cover and refrigerate 30 minutes. In wide, shallow dish, stir cornflake crumbs and flour.

3. Horseradish-Scallion Dip: In small bowl, stir 2 scallions, sour cream, horseradish, Dijon and lemon zest. Makes about 3/4 cup.

4.Form 2 tablespoons potato mixture into 1-1/2 x 2-1/2-inch croquettes; dip in cornflake crumb mixture, pressing lightly so crumbs adhere, and place on foil-lined baking pan. Makes about 12 croquettes.

5.In large skillet, heat oil over medium heat 3 minutes or until hot. In batches, if necessary, add croquettes and cook 6 minutes, turning to brown all sides; with slotted spoon, transfer to paper towel-lined baking pan to drain. Serve croquettes sprinkled with remaining scallions along with Horseradish-Scallion Dip.


Approximate nutritional values per serving (2 croquettes, 2 tablespoons dip):
433 Calories, 29g Fat, (9g Saturated), 64mg Cholesterol,
336mg Sodium, 33g Carbohydrates, 2g Fiber, 11g Protein