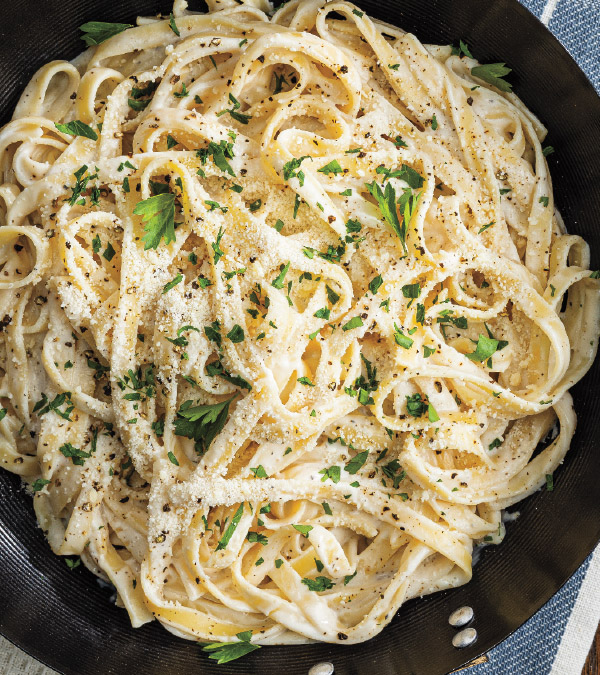 Cottage Cheese Fettuccine Alfredo
Prep: 10 minutes
Cook: 15 minutes • Serves: 4
1/2
(16-ounce) package
PICS fettuccine
4
garlic cloves, coarsely chopped
1
cup
PICS 4% milkfat small curd cottage cheese
1/2
cup
PICS grated Parmesan cheese
plus additional for garnish (optional)
1/4
cup dry white wine
1/2
teaspoon
PICS ground black pepper
Market 32 fresh parsley
, chopped (optional)
1. Prepare fettuccine as label directs; reserve 1/4 cup cooking water. Drain fettuccine; return to saucepot and cover to keep warm.

2. In food processor, purée garlic, cottage cheese, Parmesan cheese, wine and 1/4 teaspoon black pepper. Makes about 1 1/3 cups.

3. In large skillet, heat cheese mixture over medium-low heat 3 minutes or until bubbling, stirring occasionally. Add fettuccine and reserved cooking water; cook 2 minutes or until slightly thickened, stirring frequently. Makes about 4 cups.

4. Serve fettuccine Alfredo sprinkled with remaining 1/4 teaspoon black pepper, and Parmesan cheese and parsley, if desired.


Approximate nutritional values per serving (1 cup):
334 Calories, 6g Fat (3g Saturated), 19mg Cholesterol, 336mg Sodium,
53g Carbohydrates, 0g Fiber, 9g Sugars, 5g Added Sugars, 15g Protein