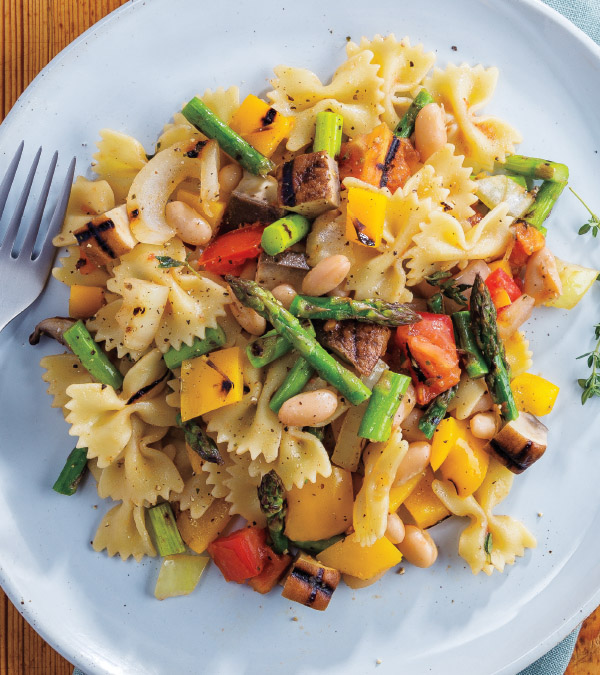 Shop Ingredients



Grilled Vegetable Pasta Salad
Prep: 20 minutes
Grill: 10 minutes • Serves: 6
1/2
(16-ounce) box
PICS farfalle (bowtie) pasta
1
can (15 ounces)
PICS cannellini beans
, drained and rinsed
2
garlic cloves, minced
2
tablespoons
PICS olive oil
1/2
teaspoon
PICS salt
2
medium portobello mushrooms
2
yellow bell peppers, halved lengthwise and seeded
2
Roma tomatoes, halved lengthwise
1
bunch asparagus, ends trimmed
1
Market 32 large onion
, sliced 1/2-inch thick
2
tablespoons
PICS balsamic vinegar
2
tablespoons fresh thyme leaves
1/2
teaspoon
PICS ground black pepper
1.Prepare outdoor grill for direct grilling over medium-high heat. Heat large saucepot of salted water to a boil over high heat. Add pasta and cook as label directs; drain and return to saucepot. Add beans to saucepot; cover to keep warm.

2.In small bowl, whisk garlic, oil and salt. In large bowl, gently toss mushrooms, bell peppers, tomatoes, asparagus, onion and oil mixture.

3.Place mushrooms, bell peppers and onion on hot grill rack; cover and cook 5 minutes. Turn vegetables; place tomatoes and asparagus on hot grill rack. Cover and cook 5 minutes or until vegetables are just tender, turning tomatoes and asparagus once.

4.Transfer vegetables to cutting board; coarsely chop. Add vegetables and any juices remaining on cutting board, vinegar, thyme and black pepper to saucepot with pasta mixture; toss gently to combine. Makes about 8 cups.


Approximate nutritional values per serving:
289 Calories, 6g Fat (1g Saturated), 0mg Cholesterol,
399mg Sodium, 49g Carbohydrates, 6g Fiber, 13g Protein

Chef Tip:
Pasta salad can be served immediately for a slightly warm dish, or covered and refrigerated up to 4 hours.