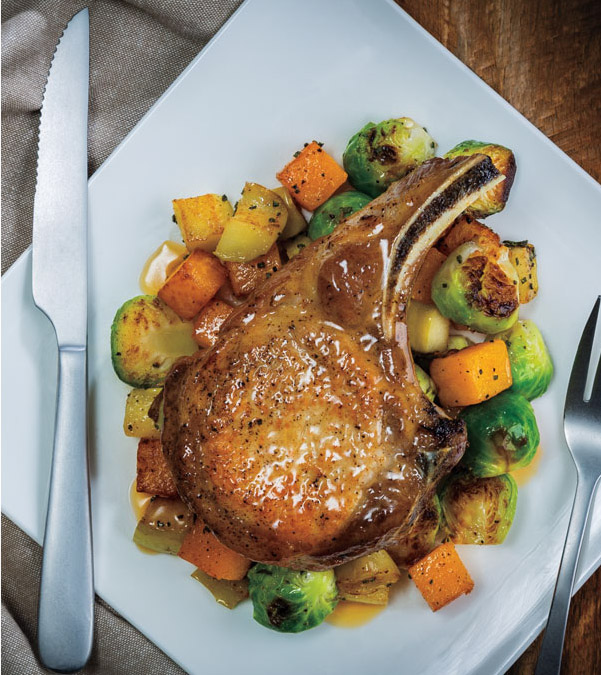 Shop Ingredients Click to See How-To Video!


Pan-Seared Pork Chops with Roasted Apples, Squash & Brussels Sprouts
Prep: 30 minutes
Cook: 15 minutes • Serves: 4
1
large Granny Smith apple, cored and chopped
1
pound Brussels sprouts, trimmed and halved
1-1/2
cups peeled and chopped butternut squash
2
tablespoons olive oil
3/4
teaspoon salt
1/2
teaspoon chopped fresh sage
1/2
teaspoon ground black pepper
1/4
teaspoon ground nutmeg
4
bone-in center-cut pork chops (about 2 pounds)
1-1/2
cups apple cider
2
tablespoons unsalted butter
1.Preheat oven to 400°. In large bowl, toss apple, Brussels sprouts, squash, 1 tablespoon oil, 1/4 teaspoon salt, sage, 1/4 teaspoon pepper and nutmeg; spread on rimmed baking pan. Roast 20 minutes or until golden brown and tender.

2.Sprinkle pork chops with remaining 1/2 teaspoon salt and 1/4 teaspoon pepper. In large skillet, heat remaining 1 tablespoon oil over medium heat. Add pork chops; cook 8 minutes or until internal temperature reaches 145°, turning once. Transfer pork chops to cutting board; tent with aluminum foil and let stand 5 minutes.

3.In same skillet, heat apple cider to a simmer over medium-high heat. Simmer 8 minutes or until reduced by half; stir in butter. Serve pork chops drizzled with apple cider reduction along with vegetables.


Approximate nutritional values per serving: 

463 Calories, 22g Fat (7g Saturated), 115mg Cholesterol,
536mg Sodium, 33g Carbohydrates, 6g Fiber, 19g Sugars,
0g Added Sugars, 36g Protein