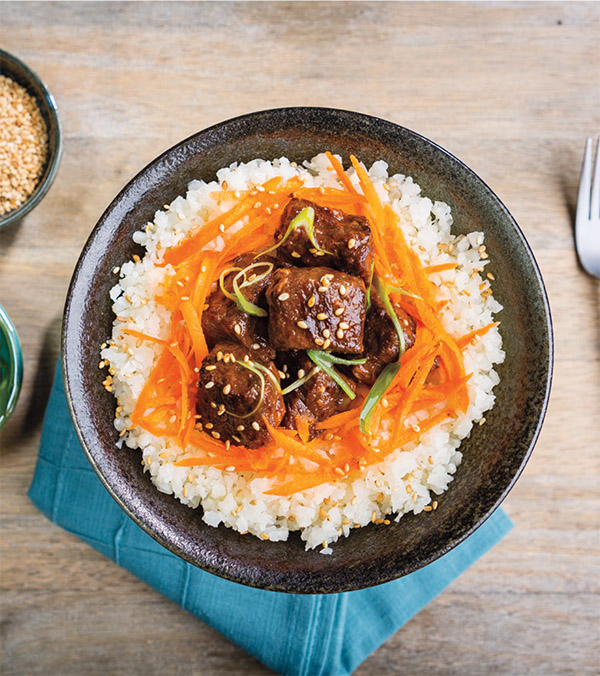 Shop Ingredients Click to See How-To Video!


Instant Pot® Korean Beef
Prep: 15 minutes plus standing
Cook: 45 minutes • Serves: 4
2
tablespoons sesame oil
1
boneless eye of round steak (about 1½ pounds), cut into 1-inch pieces
2
tablespoons gochujang sauce
2
tablespoons Korean BBQ marinade seasoning (from 1.06 ounce packet)
1
tablespoon rice vinegar
1-1/2
teaspoons grated fresh ginger
1
bag (12 ounces) frozen riced cauliflower
2
green onions, thinly sliced
1/2
cup shredded carrots
1
tablespoon toasted sesame seeds
1.In 5-quart instant pot, heat 1 tablespoon oil on sauté-normal; add beef and cook 5 minutes or until browned, stirring occasionally.

2.In medium bowl, whisk gochujang sauce, seasoning, vinegar, ginger, 1/4 cup water and remaining 1 tablespoon oil; transfer to instant pot. Place lid on instant pot and close pressure valve to seal; pressure cook on high 40 minutes. Quick release steam; let stand 10 minutes before removing lid.

3.Prepare riced cauliflower as label directs. Serve beef mixture over cauliflower topped with onions, carrots and sesame seeds.


Approximate nutritional values per serving:
338 Calories, 13g Fat (3g Saturated), 92mg Cholesterol,
897mg Sodium, 14g Carbohydrates, 3g Fiber, 7g Sugars, 39g Protein