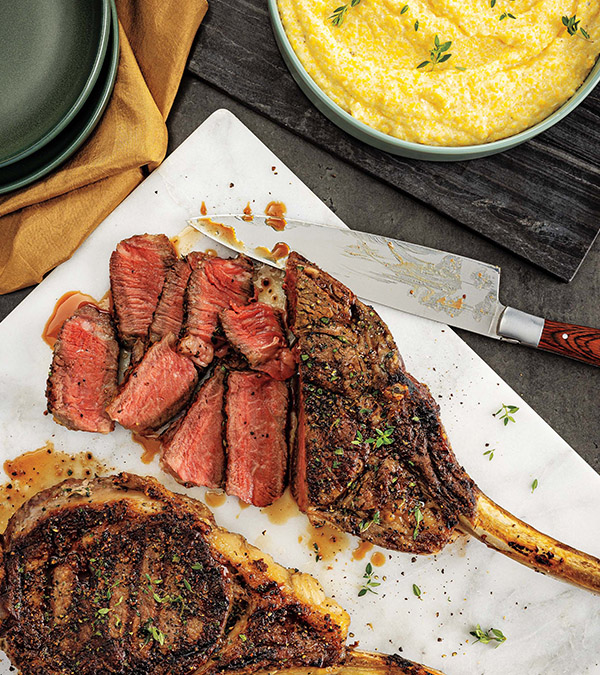 Tomahawk Steak with Creamy Chèvre Polenta
Prep: 20 minutes plus standing
Cook/Roast: 35 minutes • Serves: 6
Steak
2
bone-in tomahawk rib steaks (about 2 pounds each)
2
tablespoons
PICS olive oil
1
tablespoon fresh thyme leaves plus additional sprigs for garnish (optional)
1-1/2
teaspoons
PICS kosher salt
1-1/2
teaspoons
PICS ground black pepper
Polenta
3
cups
PICS unsalted chicken stock
2
cups
PICS whole milk
4
tablespoons
PICS unsalted butter
2
cups yellow cornmeal
2
logs (4 ounces each) plain chèvre, softened
1-1/2
teaspoons
PICS kosher salt
1.Steak: Preheat oven to 350°; line rimmed baking pan with wire rack. Let steaks stand 30 minutes at room temperature. Brush steaks with oil; sprinkle with thyme, salt and pepper. Heat grill pan over medium-high heat. Add 1 steak; cook 4 minutes, rotating 45° after grill marks appear. Turn steak; cook 5 minutes, rotating 45° after grill marks appear. Transfer steak to wire rack; repeat with second steak. Roast steaks 15 minutes or until internal temperature reaches 135°. Transfer steaks to cutting board; loosely tent with aluminum foil and let stand 10 minutes. (Internal temperature will rise to 145° upon standing for medium-rare.)

2. Polenta: In medium saucepot, heat stock, milk and butter to a boil over medium-high heat; whisking constantly, gradually whisk in cornmeal until incorporated. Reduce heat to medium; cook 5 minutes or until smooth and creamy, stirring occasionally. Remove from heat; stir in chèvre and salt. Makes about 5 cups.

3. Serve steak with polenta garnished with thyme sprigs, if desired.


Approximate nutritional values per serving (about 5 ounces steak, about 3/4 cup polenta):
949 Calories, 65g Fat, 27g Saturated Fat, 208mg Cholesterol, 1247mg Sodium,
33g Carbohydrates, 3g Fiber, 4g Sugars, 0g Added Sugars, 60g Protein

Chef Tip:
Letting the steaks stand at room temperature up to 1 hour before cooking results in even cooking and tender, juicier steaks.