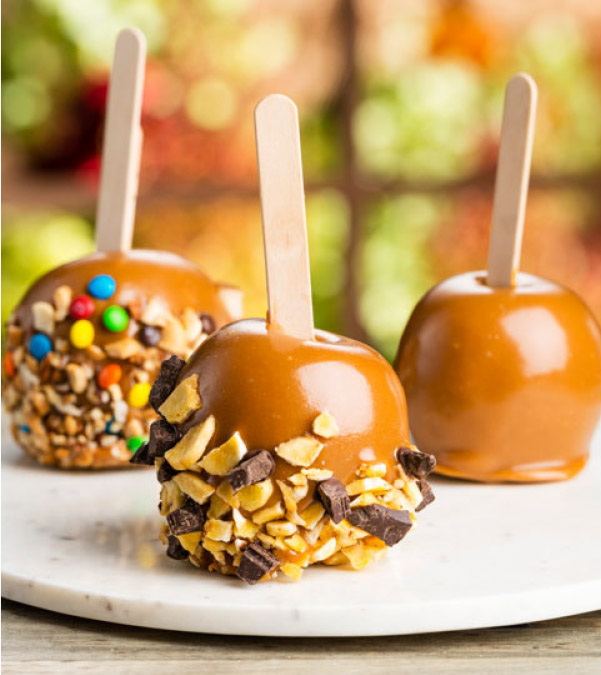 Shop Ingredients Click to See How-To Video!


Easy Caramel Apples
Prep: 20 minutes plus chilling
Cook: 30 minutes • Serves: 8
PICS unsalted butter
for coating parchment
8
wooden ice pop or craft sticks
8
medium Gala, Granny Smith, Jonathan or McIntosh apples, stems removed
Praline
1-1/2
cups
PICS granulated sugar
1-1/2
cups
PICS whole almonds
, coarsely chopped
Caramel
1/2
cup
PICS unsalted butter
(1 stick)
1
can (14 ounces)
PICS sweetened condensed milk
2
cups packed
PICS light brown sugar
1
cup
PICS light corn syrup
1/2
teaspoon salt
1
teaspoon vanilla extract
1.Line rimmed baking pan with parchment or waxed paper; coat paper with butter. Line second rimmed baking pan with parchment or waxed paper. Insert 1 wooden stick halfway into stem-end of each apple; place on pan with unbuttered paper.

2.Prepare Praline: In large nonstick skillet, cook granulated sugar over medium heat 13 to 15 minutes or until sugar melts and caramelizes, occasionally shaking skillet. Add almonds; shake skillet to coat nuts with caramel, then immediately pour mixture onto prepared buttered pan; cool in pan on wire rack. Once cooled, break almond mixture into pieces, then coarsely chop; transfer to pie plate or wide, shallow dish.

3.Prepare Caramel: Attach candy thermometer to heavy 4-quart saucepot; add butter and melt over low heat. Stir in condensed milk, brown sugar, corn syrup and salt. Cook over medium-low heat 15 to 20 minutes or until candy thermometer reaches 240°, stirring frequently. Remove from heat; stir in vanilla extract. Stir to cool caramel to 200°.

4.Dip and swirl each apple into caramel until evenly coated, allowing excess to drip into saucepot. Dip top and roll sides of apples in praline, pressing lightly so praline adheres; stand caramel apples on same pan. Refrigerate at least 1 hour or up to 3 days. To serve, let apples stand at room temperature 10 minutes before serving.


Approximate nutritional values per serving:
817 Calories, 21g Fat (7g Saturated), 27mg Cholesterol,
75mg Sodium, 155g Carbohydrates, 7g Fiber, 9g Protein