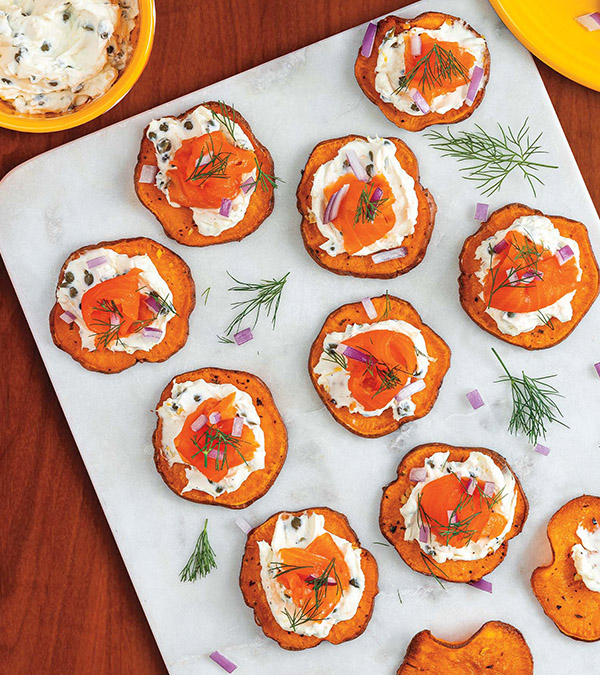 Smoked Salmon & Sweet Potato Crostini
Prep: 25 minutes
Roast: 20 minutes • Serves: 10
Nonstick cooking spray
1
medium sweet potato, sliced 1/8-inch thick crosswise
2
tablespoons
PICS garlic herb with Parmesan & basil seasoned butter
, melted
1/2
(8-ounce) package
PICS cream cheese
, softened
2
tablespoons drained and rinsed capers
2
tablespoons
PICS lemon juice
1/4
teaspoon
PICS black pepper
1/4
teaspoon lemon zest
4
ounces
PICS smoked salmon
, torn into 1-1/2-inch pieces
2
tablespoons finely chopped red onion
1
tablespoon fresh dill
1.Preheat oven to 425°; spray rimmed baking pan with cooking spray. In large bowl, toss potato slices and butter; place in single layer on prepared pan. Roast 20 minutes or until tender, golden brown and edges are crisp, turning once.

2. In medium bowl, with mixer on medium-high speed, beat cheese, capers, lemon juice, pepper and zest 2 minutes or until incorporated.

3. Spread or pipe cheese mixture onto potato slices; top with salmon, onion and dill. Makes about 30 crostini.


Approximate nutritional values per serving (3 crostini):
80 Calories, 6g Fat, 3g Saturated Fat, 18mg Cholesterol, 239mg Sodium,
4g Carbohydrates, 1g Fiber, 2g Sugars, 0g Added Sugars, 3g Protein