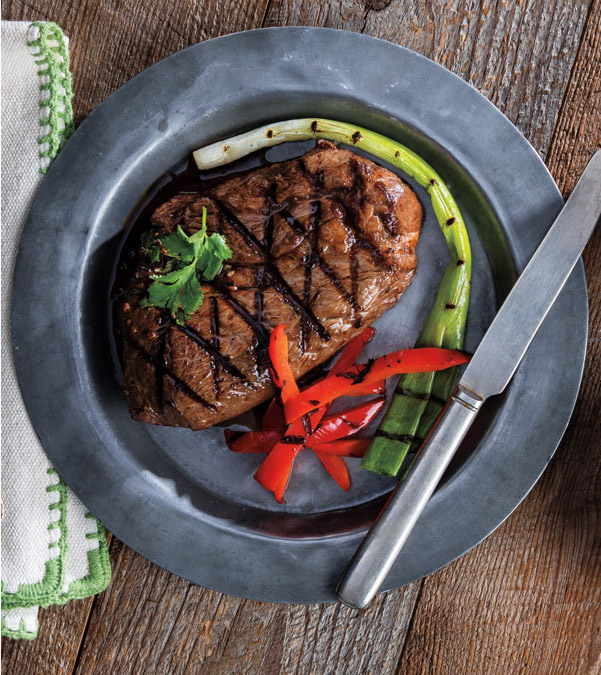 Shop Ingredients Click to See How-To Video!


Grilled Orange-Teriyaki Steaks with Grilled Scallions & Bell Peppers
Prep:15 minutes plus marinating
Grill: 15 minutes • Serves: 4
1
cup fresh orange juice
1/4
cup 7 spice teriyaki marinade
2
tablespoons chopped fresh cilantro
4
Certified Angus Beef® boneless chuck eye steaks (about 6 ounces each)
2
red bell peppers, halved and seeds removed
1
bunch green onions
1
tablespoon olive oil
1.In medium bowl, whisk orange juice, teriyaki marinade and cilantro; reserve 1/2 cup marinade. Place steaks in baking dish; pour remaining marinade over steaks. Cover; refrigerate at least 2 or up to 8 hours, turning steaks once.

2.Remove steaks from marinade and let stand at room temperature 30 minutes; discard marinade.

3.Prepare outdoor grill for direct grilling over medium-high heat. Place steaks on hot grill rack; cover and cook 10 minutes or until internal temperature reaches 140° for medium-rare, turning once. Transfer steaks to cutting board; tent with aluminum foil and let stand 5 minutes. (Internal temperature will rise 5 to 10° upon standing for medium-rare.)

4.Coat peppers and onions with oil. Place peppers and onions on hot grill rack; cover and cook 5 minutes or until grill marks appear and peppers and onions are tender, turning occasionally.

5.In small microwave-safe bowl, heat reserved marinade in microwave oven 20 seconds or until heated through. Slice bell peppers and steaks against the grain; serve with onions and reserved marinade.


Approximate nutritional values per serving: 

523 Calories, 37g Fat (13g Saturated), 112mg Cholesterol,
463mg Sodium, 16g Carbohydrates, 2g Fiber, 11g Sugars,
3g Added Sugars, 34g Protein