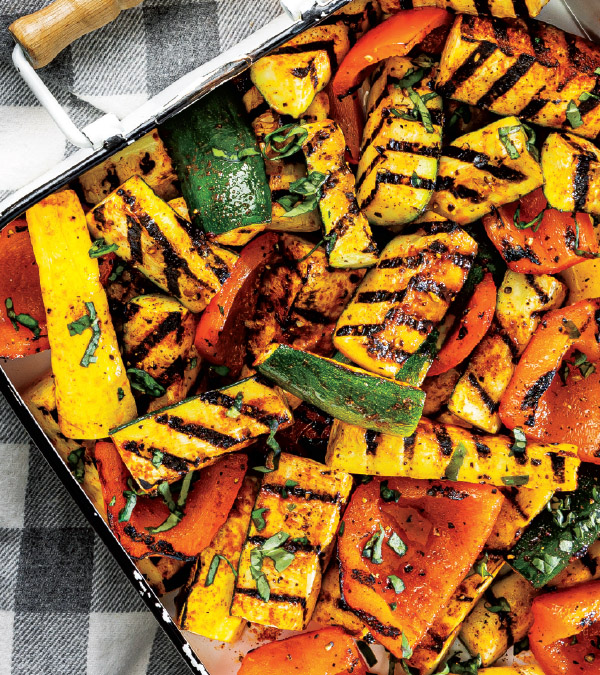 Smoky Grilled Summer Vegetables
Prep: 15 minutes
Grill: 5 minutes • Serves: 4
2
medium
Full Circle red bell peppers
, quartered, stemmed and seeded
1
medium
Full Circle yellow squash
, quartered lengthwise and seeded
1
medium zucchini, quartered lengthwise and seeded
2
tablespoons
PICS olive oil
1/2
teaspoon smoked paprika
1
tablespoon chopped fresh basil
1/2
teaspoon
PICS coarse sea salt
1/4
teaspoon freshly ground
PICS ground black peppercorns
1. Prepare outdoor grill for direct grilling over medium-high heat. In large bowl, gently toss bell peppers, squash, zucchini, oil and paprika.

2. Place vegetables on hot grill rack; cover and cook 5 minutes or until grill marks appear, turning once. Transfer vegetables to cutting board; carefully cut into 2-inch pieces. Makes about 2-1/2 cups.

3. Serve vegetables sprinkled with basil, salt and pepper.


Serving Size: 2/3 cup
Approximate nutritional values per serving:
93 Calories, 7g Fat, 1g Saturated Fat, 0mg Cholesterol, 302mg Sodium,
7g Carbohydrates, 2g Fiber, 4g Sugars, 0g Added Sugars, 2g Protein