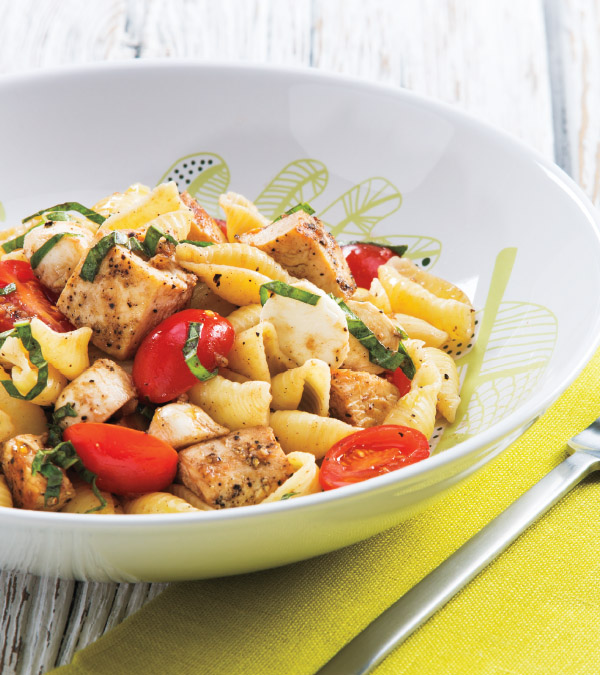 Shop Ingredients



Chicken Pasta Caprese
Prep: 25 minutes
Grill: 10 minutes • Serves: 2
1-1/2
cups
PICS medium shell pasta
(about 1/4 pound)
2
garlic cloves, minced
1
tablespoon
PICS balsamic vinegar
2
teaspoons
PICS extra virgin olive oil
3/4
teaspoon
PICS salt
3/4
teaspoon
PICS ground black pepper
1/2
(8-ounce) package
Market 32 fresh mozzarella cheese
, pearls or ball cut into 1/2-inch pieces
2
Market 32 boneless, skinless chicken breasts
(about 3/4 pound)
PICS nonstick cooking spray
1
cup halved tomatoes
1/4
cup thinly sliced fresh
Market 32 basil leaves
(about 6 leaves)
1.Prepare outdoor grill for direct grilling over medium-high heat.

2.Meanwhile, in saucepan, cook pasta as label directs; drain. In large bowl, with whisk, stir garlic, vinegar, oil, and 1/2 teaspoon each salt and pepper; add cheese and toss to combine. Let stand at room temperature.

3.Sprinkle chicken with remaining ¼ teaspoon each salt and pepper; spray both sides with cooking spray. Place chicken on hot grill rack; cover and cook 10 minutes or until chicken loses its pink color throughout and internal temperature reaches 165°, turning once halfway through cooking. Transfer chicken to cutting board and loosely cover with aluminum foil; let stand 5 minutes.

4.Cut chicken into 1-inch pieces. To serve, add tomatoes, basil, pasta and chicken to cheese mixture; toss until well combined.


Approximate nutritional values per serving:
550 Calories, 18g Fat (7g Saturated), 121mg Cholesterol,
613mg Sodium, 47g Carbohydrates, 3g Fiber, 45g protein

Chef Tip:
This dish can be prepared, covered and refrigerated up to 1 day before serving