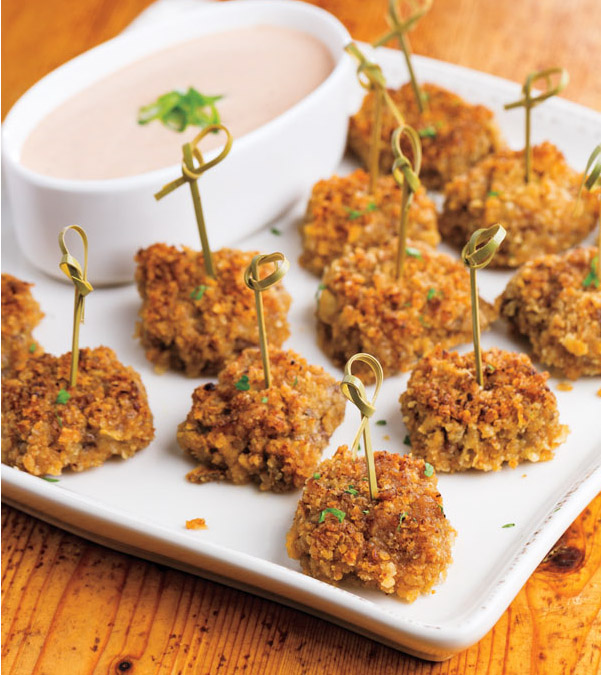 Shop Ingredients Click to See How-To Video!


Popcorn Steak Bites with Buttermilk-BBQ Dip
Prep: 15 minutes
Broil: 8 minutes • Serves: 6
Buttermilk-BBQ Dip
1/3
cup mayonnaise
1/4
cup buttermilk
3
tablespoons favorite barbeque sauce
2
tablespoons sour cream
1
tablespoon cider vinegar
1/8
teaspoon salt
1/8
teaspoon ground black pepper
Popcorn Steak Bites
Nonstick cooking spray
2
containers (6 ounces each) crispy fried onions
1/4
cup all-purpose flour
1
teaspoon ground black pepper
2
large eggs
1
pound cubed steak, cut into 1 x 1-1/2-inch pieces
1.Prepare Buttermilk-BBQ Dip: In small bowl, stir all ingredients; cover and refrigerate until ready to serve. Makes about 1 cup.

2.Prepare Steak Bites: Preheat broiler on low with oven rack about 10 inches from source of heat; spray rimmed baking pan with cooking spray. In food processor, pulse onions to fine crumbs; transfer to shallow dish.

3.In second shallow dish, whisk flour and pepper; in third shallow dish, whisk eggs. Dip steak in flour mixture, then in egg, then in onion crumbs to coat; place on prepared pan. Broil steak 8 minutes or until internal temperature reaches 160°, turning pan halfway through cooking. Makes about 36 bites.


Approximate nutritional values per serving (6 bites and 2½ T. dip):
496 Calories, 39g Fat (9g Saturated), 55mg Cholesterol,
599mg Sodium, 29g Carbohydrates, 1g Fiber, 4g Sugars,
3g Added Sugars, 7g Protein