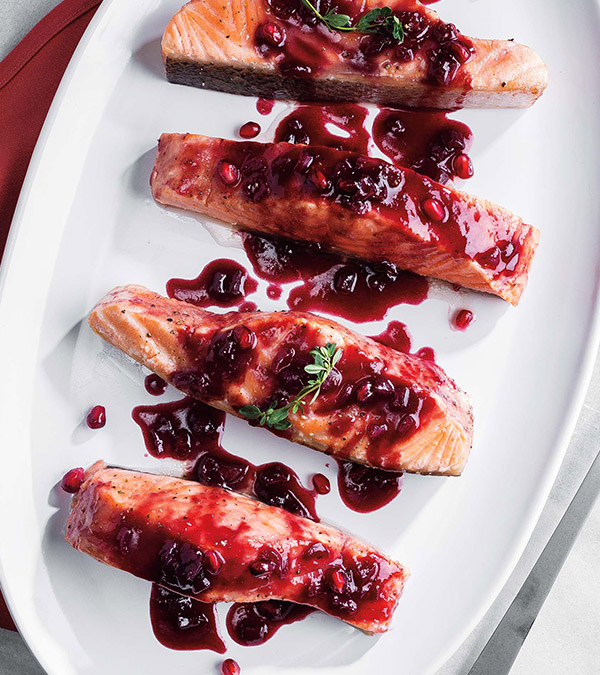 Click to See How-To Video!



Pomegranate & Red Wine-Roasted Salmon
Prep: 20 minutes
Roast: 15 minutes • Serves: 4
1
cup dry red wine such as Pinot Noir
3/4
cup pomegranate arils
1
shallot, chopped
2
tablespoons
PICS honey
2
tablespoons
PICS unsalted butter
4
salmon fillets (about 1-1/4 pounds)
1
teaspoon
PICS salt
1/2
teaspoon fresh ground
PICS black pepper
4
thyme sprigs for garnish (optional)
1.Preheat oven to 400°. In blender, blend wine and 1/2 cup pomegranate arils; strain through fine-mesh strainer into small bowl and discard pulp.

2. In small saucepan, heat shallot, honey and pomegranate-wine mixture to a boil over high heat; reduce heat to medium and simmer 8 minutes or until reduced by 1/2. Remove from heat; stir in butter. Makes about 1/2 cup.

3. Place salmon, skin side down, in 8-inch square baking dish; sprinkle with salt and pepper. Pour wine mixture over salmon. Roast salmon 15 minutes or until internal temperature reaches 145°. Serve salmon drizzled with pomegranate-wine sauce and sprinkled with remaining 1/4 cup pomegranate arils. Garnish with thyme sprigs, if desired.


Approximate nutritional values per serving (1 salmon fillet, 2 tablespoons sauce):
393 Calories, 16g Fat, 5g Saturated Fat, 105mg Cholesterol, 655mg Sodium,
18g Carbohydrates, 2g Fiber, 14g Sugars, 9g Added Sugars, 33g Protein