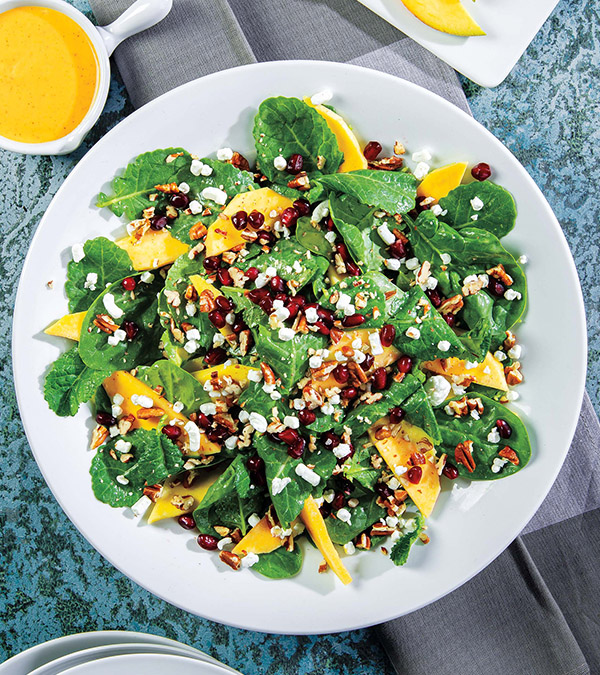 Kiwi, Clementine & Blackberry Salad with Creamy Poppy Seed Dressing
Prep: 10 minutes
Cook: 4 minutes • Serves: 4
1/2
cup unsalted pepitas
1/2
cup
PICS plain nonfat Greek yogurt
2
tablespoons
PICS fresh lemon juice
2
tablespoons
PICS raw honey
1
tablespoon
PICS grapeseed oil
1
teaspoon poppy seeds
3
clementines, peeled and separated
2
kiwis, peeled and thinly sliced crosswise
4-1/2
cups
Full Circle spring mix salad greens
1-1/2
cups halved blackberries
1.In large skillet, toast pepitas over medium-high heat 4 minutes or until lightly browned and fragrant, stirring frequently; transfer to plate to cool.

2. In large bowl, whisk yogurt, lemon juice, honey, oil and poppy seeds; fold in clementines, kiwis, spring mix and blackberries. Makes about 6 cups.

3. Transfer 2 cups salad and 2 tablespoons pepitas to zip-top plastic bag; freeze overnight or up to 1 month.

4. Serve remaining salad sprinkled with remaining 6 tablespoons pepitas.


Approximate nutritional values per serving (1 cup):
173 Calories, 8g Fat, 1g Saturated Fat, 1mg Cholesterol, 56mg Sodium,
21g Carbohydrates, 5g Fiber, 14g Sugars, 6g Added Sugars, 7g Protein