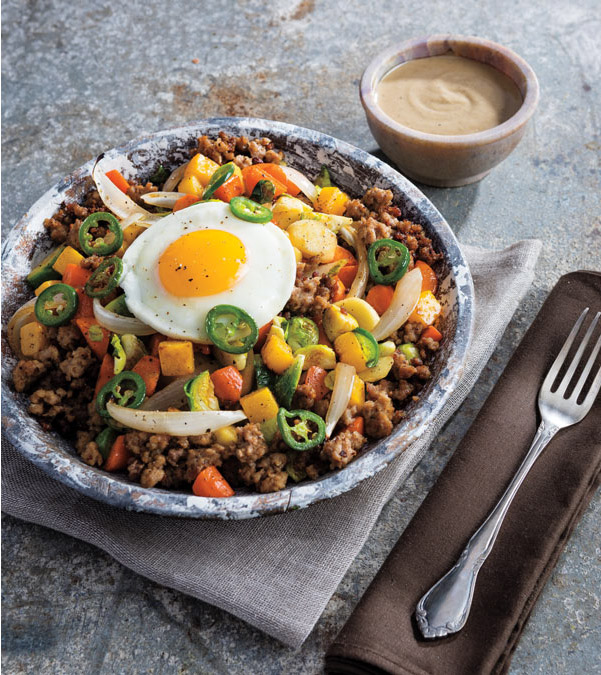 Shop Ingredients Click to See How-To Video!


Paleo Mash-Up Bowl
Prep: 10 minutes
Cook/Roast: 25 minutes • Serves: 4
1/4
cup plus 1 teaspoon olive oil
1/2
small white onion, sliced 1/2-inch thick
1
cup quartered trimmed Brussels sprouts
3
cups chopped peeled butternut squash, carrots and/or parsnips
1/2
teaspoon salt
1/4
teaspoon ground black pepper
2
medium jalapeño chile peppers, thinly sliced
1
pound 96% Lean American Heart Association Ground Beef
4
large eggs
1/4
cup tahini
1.Preheat oven to 400°. Coat 2 rimmed baking pans with 1 tablespoon oil each. In large bowl, toss onion, Brussels sprouts, squash, carrots, parsnips, salt, pepper and 1 tablespoon oil; transfer to 1 prepared pan. In same bowl, toss jalapeño and 1 teaspoon oil; transfer to remaining prepared pan. Roast 25 minutes or until golden brown.

2.In large skillet, cook beef over medium-high heat 5 minutes or until browned, breaking up beef with side of spoon; drain and cover.

3.In large skillet, cook eggs in remaining 1 tablespoon oil over medium heat 3 minutes or to desired doneness.

4.Evenly divide beef into 4 bowls; top with roasted vegetables, eggs and jalapeños. Drizzle with tahini.


Approximate nutritional values per serving: 

476 Calories, 31g Fat (7g Saturated), 255mg Cholesterol,
451mg Sodium, 18g Carbohydrates, 5g Fiber, 5g Sugars,
0g Added Sugars, 33g Protein