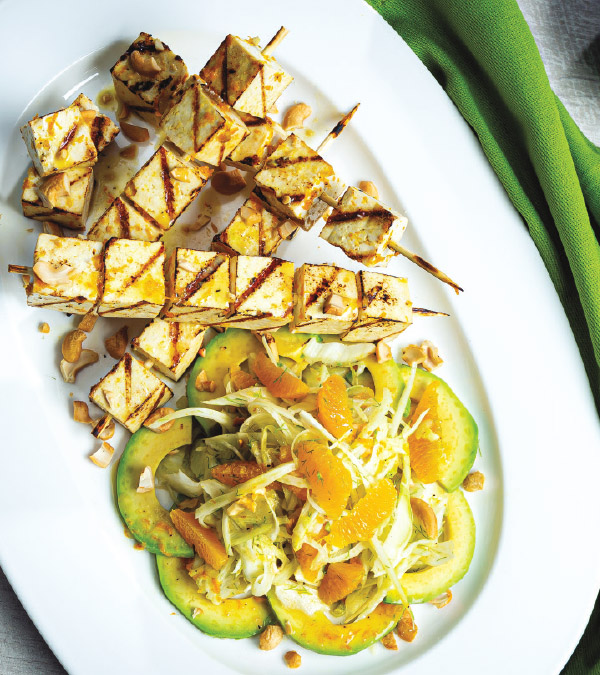 Fennel, Citrus & Avocado Salad with Grilled Tofu Skewers
Prep: 25 minutes plus marinating  
Grill: 10 minutes • Serves: 4
1
package (14 ounces) extra firm tofu, drained
1
large orange, zested (about 1 tablespoon zest), orange reserved
3
tablespoons white wine vinegar
2
tablespoons
PICS grapeseed oil
1
tablespoon
PICS honey
3/4
teaspoon
PICS salt
4
(8-inch) wooden skewers
1
tablespoon
PICS Dijon mustard
1/4
teaspoon
PICS ground black pepper
1
medium fennel bulb, 1/4 fennel fronds reserved, bulb thinly sliced
1
avocado, peeled, pitted and sliced
1/4
cup
PICS chopped roasted unsalted cashews
1.Wrap tofu with paper towels and place on a plate; top with a second plate and weigh down with a heavy object. Let tofu stand 15 minutes; cut into 1-inch pieces.

2.Slice off ends of orange; place cut side down on cutting board. Slice down sides of orange to remove skin and white pith with a paring knife. Hold orange over large bowl; gently cut along sides of membranes to release each segment. Reserve orange segments; squeeze juice from orange membrane into same large bowl. Whisk in 1 tablespoon each vinegar and oil, 1-1/2 teaspoons honey, 1/4 teaspoon salt and orange zest. Add tofu and toss gently; let stand 30 minutes. Soak skewers in water 20 minutes.

3.Prepare outdoor grill for direct grilling over medium-high heat. Remove tofu from marinade with slotted spoon; whisk in mustard, pepper, and remaining 2 tablespoons vinegar, 1 tablespoon oil, 1-1/2 teaspoons honey and ½ teaspoon salt. Add fennel, fennel fronds and orange segments; toss. Makes about 3 cups.

4.Thread tofu onto skewers. Place skewers on hot grill rack; cover and cook 10 minutes or until grill marks appear and tofu is crisp, turning 1/4 turn every 2-1/2 minutes.

5.Serve fennel mixture topped with avocado, cashews and tofu skewers.


Approximate nutritional values per serving (1 skewer, 3/4 cup salad):
360 Calories, 24g Fat (4g Saturated), 0mg Cholesterol,
567mg Sodium, 26g Carbohydrates, 8g Fiber, 14g Sugars, 14g Protein