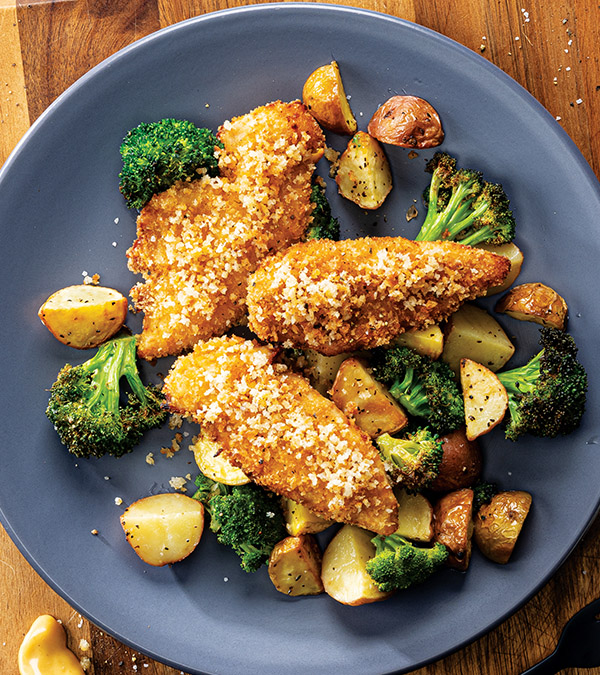 Air Fryer Chicken Tenders with Vegetables and PICS Chicken Dipping Sauce
Prep: 20 minutes
Air Fry: 42 minutes • Serves: 4
1
bag (1-1/2 pounds) red and yellow baby potatoes, quartered
2
tablespoons
PICS olive oil
1/2
teaspoon
PICS salt
1/2
teaspoon
PICS ground black pepper
1-1/2
bags (12 ounces each) fresh broccoli florets
1-1/4
cups
PICS panko breadcrumbs
1-1/2
pounds
Market 32 boneless chicken tenders
1/2
cup plus 2 tablespoons
PICS honey mustard
Nonstick cooking spray
1/2
cup
PICS sweet & tangy chicken dipping sauce
1.Preheat 3-quart air fryer to 400° for 5 minutes; line 2 rimmed baking pans with aluminum foil. In large bowl, toss potatoes, 1 tablespoon oil, and 1/4 teaspoon each salt and pepper. In medium bowl, toss broccoli and remaining 1 tablespoon oil, and 1/4 teaspoon each salt and pepper.

2. Add potatoes to air fryer; air fry 10 minutes or until slightly tender. Add broccoli; air fry 8 minutes or until vegetables are just tender. Transfer vegetables to 1 prepared pan; cover with foil. Makes about 6 cups.

3. Place breadcrumbs in wide, shallow dish. Brush both sides of chicken with mustard, then press both sides in breadcrumbs to coat; place on second prepared pan and spray with cooking spray. In 3 batches, air fry chicken 8 minutes or until internal temperature reaches 165°, turning once; cover chicken with foil between batches to keep warm. Makes about 12 tenders.

4. Serve chicken tenders with sauce along with vegetables.


Approximate nutritional values per serving:
730 Calories, 27g Fat, 4g Saturated Fat, 141mg Cholesterol, 1610mg Sodium,
59g Carbohydrates, 5g Fiber, 20g Sugars, 16g Added Sugars, 50g Protein

Chef Tip:
Steam remaining broccoli and use in a baked potato or frittata.