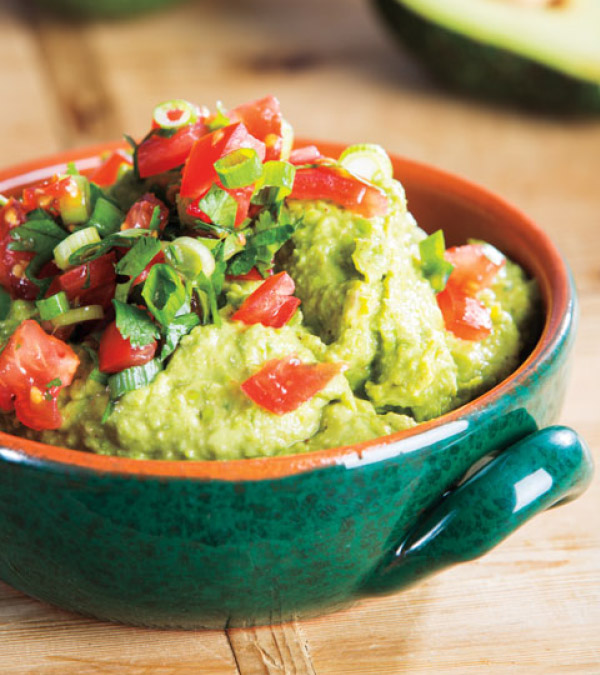 Shop Ingredients Click to See How-To Video!


Super Guacamole
Prep: 20 minutes • Serves 15
2
small vine-ripened tomatoes, coarsely chopped
3/4
cup chopped green onions (about 5)
1
tablespoon chopped fresh cilantro plus 1/2 cup packed leaves
1
package (12 ounces) frozen sweet peas, thawed
3
garlic cloves
2
medium ripe avocados, pitted and peeled
1
large jalapeño chile pepper, halved and seeded
1/4
cup fresh lime juice
1
teaspoon lime zest
3/4
teaspoon ground cumin
1/2
teaspoon chili powder
1/2
teaspoon kosher salt
1/4
teaspoon ground red pepper
1.In small bowl, toss tomatoes, 1/4 cup green onions and 1 tablespoon chopped cilantro.

2.In food processor with knife blade attached or blender, purée remaining ingredients, and remaining 1/2 cup green onions and 1/2 cup cilantro leaves until mixture is smooth, scraping sides of bowl occasionally.

3.Transfer guacamole to serving bowl; top with tomato mixture to serve. Makes 2-3/4 cups guacamole and 1 cup tomato mixture.


Approximate nutritional values per serving (about 1/4 cup dip): 

6 Calories, 4 Fat (1g Saturated), 0mg Cholesterol, 70mg Sodium,
8g Carbohydrates, 4g Fiber, 3g Sugars, 0g Added Sugars, 3g Protein

Chef Tips:
Guacamole and tomato mixture can be prepared and refrigerated up to 6 hours in advance. Top the guacamole with tomato mixture just before serving.
Include the seeds and veins of the jalapeño chile pepper for a spicier guacamole.