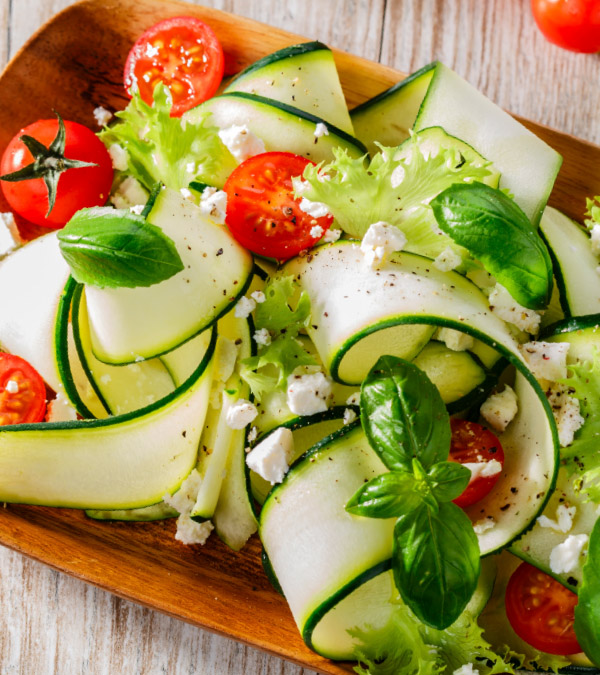 Zoom in on Zucchini
Summer is finally here, and that means it's prime time for zucchini. Rich in nutrients and low in calories, zucchini is great steamed, sautéed, grilled, fried or baked. This versatile vegetable can be made into almost anything. Try these fun ways to eat it on August 8th, National Zucchini Day:
A cut above Shred or grate raw zucchini into salads, or cut it into spears for vegetable platters. For a savory side with Italian flair, coat the spears with seasoned breadcrumbs and bake or fry them like French fries. Or, toss zucchini rounds with salt, pepper and olive oil and bake to create homemade veggie chips. Zucchini is also a great addition to gratins or frittatas for brunch or sautéed in stir-fries. It also makes an excellent dessert feature in treats such as zucchini bread, zucchini-carrot spice cakes or Carrot-Zucchini Chocolate Muffins (see recipe on left!).

Flower power The golden flowers that grow on the stalks of zucchini plants are edible, making them a beautiful and flavorful addition to your summer meals. Batter and deep-fry or stuff with ricotta and bake the flowers in the oven. Cut these blossoms into shreds and add to risotto or use as a bright garnish at a dinner party. The flowers can be stored tightly sealed in the refrigerator for up to seven days.

How to Spiralize Spiralizing zucchini is a trendy alternative to traditional pasta and quick and easy to prepare. Gluten-free and carb-friendly veggie noodles can be created using a few different kitchen tools and techniques; simply spiralize, cook if desired, top with your favorite pasta sauce and dig in!

A Spiralizer Tool Some handheld spiralizing tools require twisting the zucchini to create noodles while other countertop varieties hold the vegetable in place while you turn the handle.

Vegetable Peeler For a wide noodle, use a peeler by placing it on the edge of the zucchini and drawing it towards you. The more pressure you apply, the thicker your zucchini noodles will be.

Box Grater This method creates shorter noodles than a spiralizer or peeler. Simply use the largest size holes and grate the zucchini lengthwise down the grater.

Mandolin A mandolin is ideal for creating consistently sized noodles. Set the tool to julienne 1⁄8-inch thick for thin noodles. Carefully run the zucchini down the mandolin to make the noodles.