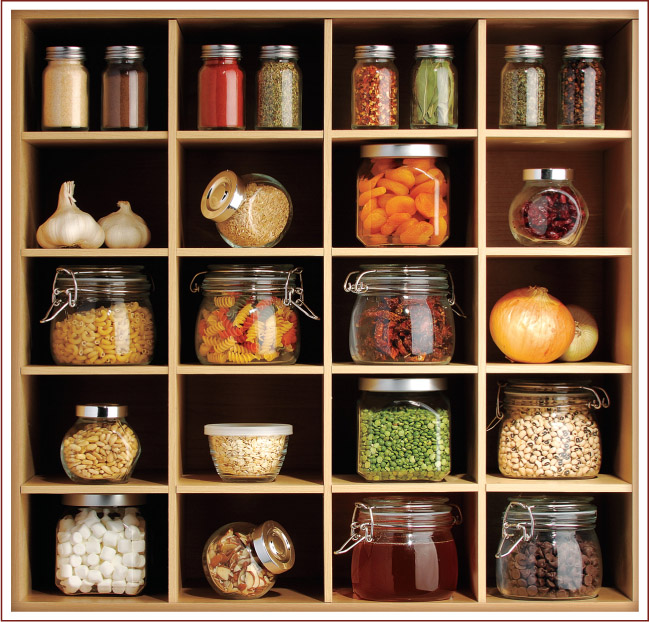 Fall Pantry Staples
As summer turns to fall and it seems many of us have "more on our plate," getting dinner on the table requires a bit more organization and planning. Stocking your pantry is a great way to prepare in advance for those last-minute meals. With the right basic ingredients, you'll be able to whip up a variety of new dishes. Moreover, not only is cooking from home a healthier option than take-out, delivery and restaurant meals, it's more economical. By planning ahead, you save time and money. No more rushing to the store to pick up those last-minute ingredients.
When stocking your fall pantry, don't forget the refrigerator and freezer "pantry." Try to purchase off-the-shelf timesavers and convenience products which do some of the work for you. Refrigerated prepared beef tips and roast pork in the Meat Department can be easily adapted and "doctored up" for recipes such as stroganoff, sandwiches, stew or chili. Purchase pre-marinated pork tenderloin, chicken breasts and salmon.
Many of us have a repertoire of tried-and-true recipes our family loves and are quick to prepare. Add variety to these stand-bys by choosing products with added ingredients such as diced tomatoes with onions, green chiles or garlic, perfect for pasta and enchiladas. Sliced almonds come in flavors from roasted garlic to Parmesan. Use these to jazz up rice or create a unique coating for chicken. Some cheeses are blended with herbs, sun-dried tomatoes and even horseradish. Enjoy on pizza or in macaroni and cheese and mashed potatoes.
Branch out of your comfort zone and fill your pantry with refreshing fare to revive dinnertime. Consider frozen pierogies instead of mashed potatoes or pasta. Buy frozen shelled edamame instead of peas, or frozen barramundi over tilapia. Pesto benefits from a long shelf life, and makes an "instant" sauce for pasta, pork and poultry. Don't forget to pick up Asian and Hispanic ingredients. As these items become more mainstream, products such as panko breadcrumbs, coconut milk, chipotle chiles and chili paste are sometimes included in recipes in unexpected ways.
Purchase condiments, dried herbs and spices in small packages to reduce waste. And remember, it's a good idea to mark your pantry supplies with a purchase date so you're sure to use the oldest items first.
Fall Pantry Starter List
baking needs – baking powder and soda, chocolate, coconut, cornstarch, flours, marshmallows, yeast, yellow cornmeal
broth – beef, chicken, vegetable
dried herbs & spices – allspice, basil, bay leaves, chili powder, cinnamon, cloves, coriander, crushed red pepper flakes, cumin, curry, dried mushrooms, garlic powder, ginger, nutmeg, oregano, paprika, rosemary, sage, thyme
grains – barley, oats
legumes – an assortment of dried or canned beans (black, garbanzo, great Northern, pinto), black-eyed peas, lentils, split peas
miscellaneous canned – coconut milk, corn (creamed and whole-kernel), pumpkin, salmon, sauces, soups, tuna
nuts – almonds, pecans, pine nuts, walnuts
oils – canola, olive, peanut, sesame, vegetable
pasta – various shapes and sizes
produce – dried fruits (apricots, cherries, cranberries, raisins), garlic, lemons, limes, jarred minced fresh ginger, onions, sun-dried tomatoes
rice – brown (long and short grain), jasmine, white (Arborio, basmati)
sweeteners – brown sugar, granulated sugar, honey, maple syrup, molasses
tomatoes – crushed, diced, flavored and seasoned varieties, paste, sauce, whole
vinegars – balsamic, cider, red and white wine, rice, sherry