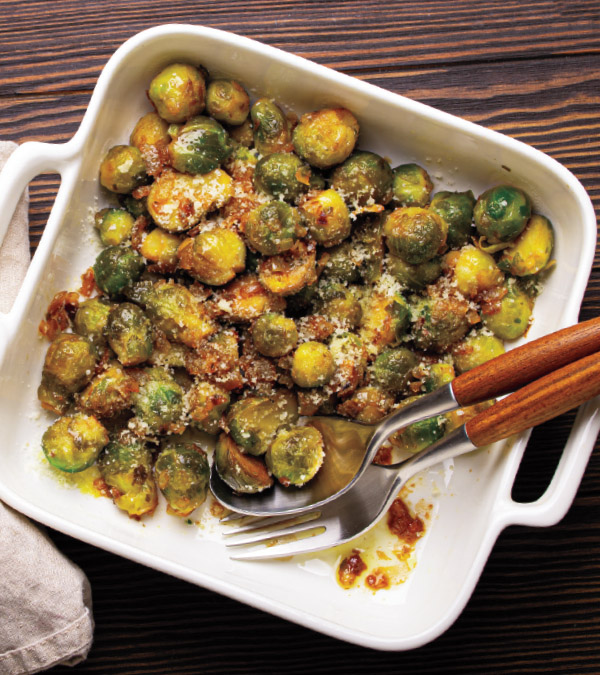 Last-Minute Holiday Side Dishes

In the whirlwind of holiday preparations, we've all found ourselves juggling more tasks than there are ornaments on the tree. But a long to-do list doesn't have to mean side dishes that are just so-so. We've crafted a collection of sides that are as delectable as they are easy—perfect for times when the clock's ticking, and on-hand ingredients are at a premium.
1. Garlic-Parmesan Roasted Brussels Sprouts: Transform those humble Brussels sprouts lurking in your veggie drawer into a crispy, golden revelation. Toss them with olive oil, minced garlic and a generous sprinkle of Parmesan. Roast until they're browned and irresistibly crunchy on the edges.
2. Lemon-Herb Quinoa Pilaf: Quinoa is the pantry's unsung hero, ready to swoop in and save the day. Cook it with dried or fresh herbs, a squeeze of fresh lemon juice and a drizzle of olive oil. This light and fluffy pilaf adds a touch of sophistication without sacrificing speed.
3. Maple-Glazed Carrots with Pecans: A dash of sweetness and a handful of pantry staples turn ordinary carrots into a stand-out side dish. Simply simmer baby carrots in a maple glaze until they're caramelized and tender, then finish with a sprinkle of toasted pecans for a satisfying crunch.
4. Balsamic-Roasted Asparagus: For an elegant dish with minimal effort, try roasted asparagus drizzled with balsamic glaze. A quick stint in the oven turns this green goddess into a show-stopping side, perfect for adding a burst of freshness to your holiday table.
These easy side dishes free up your precious time and will please your guests. Cheers to a festive season filled with delicious simplicity!