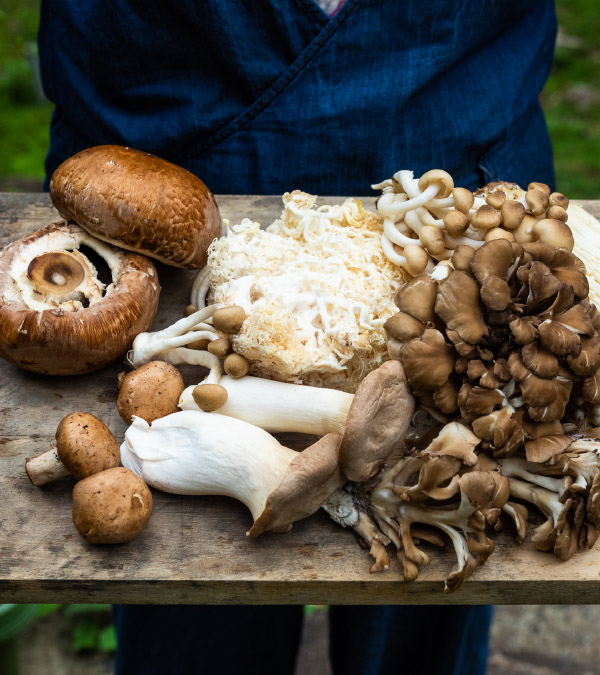 Dig Deeper Into Local Mushrooms!

Always in season and grown year-round, our Market 32 mushrooms – grown right here in the Northeast! – are nature's hidden treasure. They supply vitamins B and D, fiber, potassium and more that help regulate blood pressure, increase energy, strengthen the immune system and improve heart health. Known for their umami – a savory taste that's meaty and broth-like – mushrooms lend intense flavors to an array of meat- and plant-based dishes. Elevate everyday meals with these mouthwatering mushroom varieties.
White Button: Smooth white button mushrooms are the mildest in flavor, making them incredibly adaptable. Great for sautéing, white buttons are delicious raw or cooked, added to soups, salads and pastas or on pizzas, quesadillas and burgers.
Portobello: With a rich flavor and dense, "meaty" texture, portobellos hold up to various cooking methods and make excellent meat substitutes. Enjoy chili-lime portobellos in our fajita recipe, or use their large caps as a burger patty or bun replacement for a plant-forward meal.
Cremini or Baby Bella: More mature than white buttons yet younger than portobellos, creminis lend depth to sauces, omelets, quiches and pasta dishes. Sauté sliced creminis in butter and herbs and serve over noodles or buttered toast. They're also great for stuffing; try a blend of grated cheese, breadcrumbs and fresh herbs for a tasty appetizer.
Shiitake: A highlight in Asian dishes, smoky shiitakes have floppy dark-brown caps with a full-bodied flavor that bodes well for soups and sauces. Stir-fry shiitakes with garlic, ginger and chile peppers, and add chicken or shrimp and rice for a complete meal. Though the stems are too woody to eat, you can save them to make a wonderfully rich, flavorful stock.
The Blend Trend
This innovative cooking technique combines chopped mushrooms with ground meat to make meals more delicious, nutritious and sustainable. The best part? This trend works well in all your favorite recipes: burgers, tacos, meatloaf, lasagna, pasta sauce and meatballs.