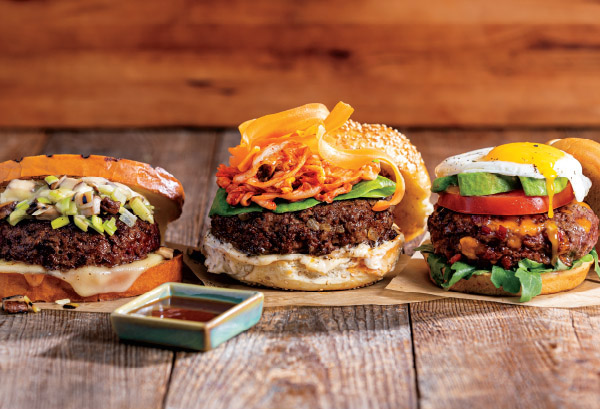 From Boring to Brilliant: Beef Up Your Burger Builds
Whether you're a rookie who's just stepping up to the grates or a grill master looking to take a summer grilling favorite to the next level, we have everything you need to build better burgers. At Price Chopper and Market 32, find all the burger necessities, as well as innovative ingredients that expand your burger repertoire. Beef up your burger builds and make every cookout memorable with our tips and tricks below.
All About that Bun:
Breads and buns are basic staples in many households. Think beyond the average whole wheat bun and get creative with selections like brioche, onion rolls, Hawaiian sweet rolls or even a Sourdough or Tuscan Bread (see burgers at left!).

Scratch-Made Perfection:
If you choose to make your patties from scratch, use seasonings such as onion powder, garlic powder or cayenne pepper for a kick. When mixing ground chuck with seasoning, be gentle; overmixing can make the burgers dry and tough. To make the patties perfectly uniform, roll the meat in wax paper to form a log, then cut into the desired thickness. During cooking, prevent patties from bulging by creating depressions in the centers with your thumb. Use a spatula rather than tongs to flip the burgers to prevent releasing the tasty juices from the burgers and drying them out.

Infused with Flavor:
For a timesaving solution, pick up CAB pre-flavored and pre-mixed burgers. Certified Angus Beef Burgers have the optimal flavor profiles and textures to provide the ultimate eating experience for your cookouts all summer long. Find these signature Market 32 Gourmet Pub Style Burgers in a variety of flavor profiles like Plain, Buffalo Seasoned Bleu Cheese, Sweet Onion, Portabella & Swiss, and Bacon & Cheddar. If beef burgers don't align with your eating style, try alternatives such as turkey, chicken or salmon burgers or our plant-based varieties from brands like Beyond Meat® and Lightlife®.

Humble Handling:
Resist the temptation to smash down your beautiful burgers with a spatula. If you press down the spatula on your burger, you'll lose the natural juices. Instead, using a fork, poke holes in uncooked patties. Heat will work its way through and cook the meat evenly.

Next-Level Toppings:
With endless topping possibilities, it's easy to create burgers that provide delicious bite after bite. Sun-dried tomatoes, pepperoni and pizza sauce are simple yet flavorful additions. Bacon, a traditional topping, can be glazed with maple syrup to add mouthwatering, smoky sweetness. Or, fry a sunny-side-up egg during your burger's last few minutes of cooking for an oozing, flavor-filled topping. You can also turn to international sauces for new, exciting flavors. Use hummus for a nutritious, Mediterranean twist, or gochujang or curry paste for a spicy kick of Asian or Indian flavors.

Say Cheese!
Nothing tops off a burger like one of these perfect melters! Just before your burgers are done, top with your favorite gourmet cheese.
Bleu Cheese: Tangy, buttery and sharp, bleu cheese melts beautifully.
Mozzarella: Soft and delicately flavored, perfect for melting.
Cheddar: Creamy with just the right balance of flavor and sharpness.
Swiss Cheese: Nut-like flavor, smooth, delicious and easy to slice.

Grilled Patty Melt
Start with Market 32 Sourdough or Tuscan Bread, add Brie cheese and grilled/chopped Market 32 Portobella Mushrooms and Leeks, grill and sandwich with grilled Market 32 Plain Gourmet Pub Style Burger

Kimchi Burger
Start with a Sesame Seed Kaiser Roll, spread with PICS Mayonnaise, and top with grilled Market 32 Sweet Onion Gourmet Pub Style Burger, Bibb Lettuce, Spicy Kimchi, Shaved Full Circle Carrots and Korean BBQ Sauce

Avocado Bomb Burger
Start with a Market 32 Brioche Bun, top with Arugula, grilled Market 32 Bacon & Cheddar Gourmet Pub Style Burger, Tomato, Avocado and Fried Egg