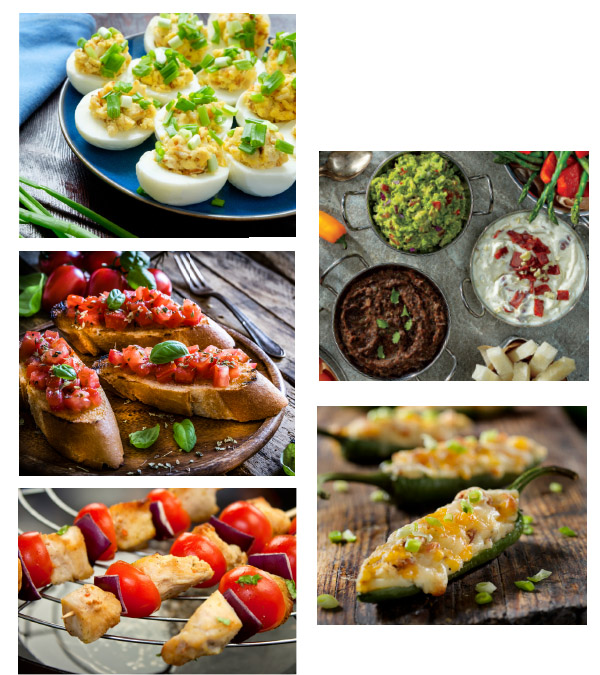 5 Finger Foods for Easy Summer Appetizers

Finger foods are the perfect kickoff to any summer gathering. In the summertime, the simpler the preparation, the better. Whether for picnics, barbeques or soirées, enjoy these uncomplicated, warm-weather foods all summer long, with no utensils required!
1. Elevated Deviled Eggs
A huge hit at any gathering, deviled eggs are packed with protein and allow you to showcase an array of creative, flavorful filling combinations. Start with our Taco Deviled Eggs recipe for a Mexican twist, or take traditional deviled eggs to the next level with additions like mustard, bits of bacon, green onions or salad shrimp. Spice up the filling mixture with a dash of sriracha, hot sauce or harissa.
2. Drool-Worthy Dips
Any dip you can dream up provides the perfect vehicle for enjoying finger food favorites – from fries, crackers and chips to pretzels, veggies and more. Keep things classic with spinach and artichoke dip or buffalo chicken dip. Or feature seasonal produce to create Mexican street corn dip or our creamy Sun-Dried Tomato Dip using fresh endive and jicama dunkers for dipping.
3. Craveable Crostini
Crostini are easy to make and personalize; toast baguette slices and adorn them with an array of toppings. Create caprese crostini with tomato, mozzarella, basil and balsamic glaze, or make them sweet by topping with peak-season peaches and a drizzle of honey.
4. Summer Skewers
What's better than serving up your favorite proteins, fruits and veggies on a stick? Skewers are simple to prep, make eating fun (especially for kids) and can be mixed and matched to suit different palates. Try combinations like grilled chicken, red onion and plums, or shrimp, zucchini and pineapple. Pair them with different dipping sauces or dressings.
5. Stuffed Everything!
Stuffed creations are perfect pop-in-your-mouth finger foods. Whether it's hummus-stuffed cherry tomatoes, jalapeño poppers filled with a rich, creamy center or goat cheese-stuffed and bacon-wrapped dates, countless bases await easy, mouthwatering stuffings.