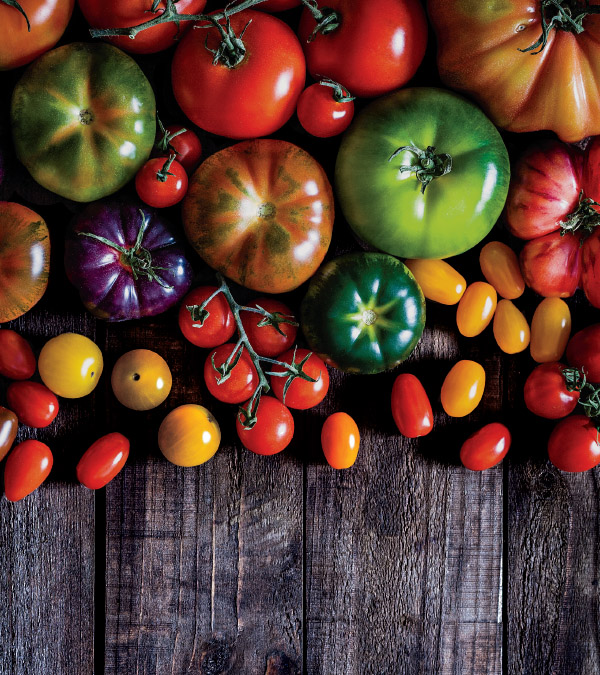 Tantalizing Tomatoes

Versatile and tasty, tomatoes will bring your summer menus to life.
When juicy, flavorful Northeast-grown tomatoes start arriving to us, we know that our region's peak growing season is in full swing. Tomatoes were one of the first crops we began sourcing from local farmers way back in 1932, and some of the many mouthwatering varieties on offer each year still come from farms here in the Northeast.
Choose sturdy Beefsteaks if you're looking for big, thick slices for summer burgers and BLTs. Bite-size cherry and grape varieties make great snacks and offer sweet bursts of flavor in quick pasta sauces. Fleshy, oval-shaped Romas are the tomatoes to select for long-cooked dishes, as they create richer, thicker sauces; they're also a great choice for topping pizza or bruschetta. Tomatoes harvested on the vine tend to have fuller flavor and a deeper red color, making them ideal for salads or sandwiches. Available in hues ranging from vivid yellow to dark purplish-green, delicate Heirloom tomatoes should be served as simply as possible to highlight their unique beauty and flavors.
From the Syracuse area to Central Massachusetts, we're proud to source the best tomatoes our region has to offer, from farms we've been partnering with for decades. We're big on local produce whether it's grown in the fields of our farming partners—or on the sunny patios of our shoppers! When growing your own tomatoes at home in a pot or other container, using a premium potting mix is your best bet. Potted plants need to be watered more frequently than those grown in the ground, so keep an eye on them. Make sure the soil is always moist (but not soggy) and never let it dry out completely. Check your local Price Chopper or Market 32 for our 10″ caged patio tomato plants that are seeded and grown here in the Northeast.