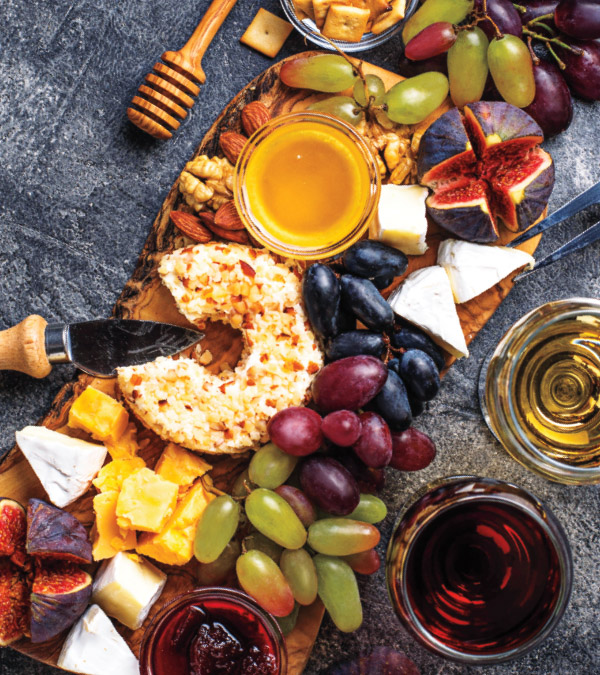 Building the Perfect Holiday Cheeseboard

Impress your guests this holiday season with an easy-to-assemble cheeseboard. From rich and creamy to hard and chunky, there are a variety of sizes, shapes and textures to choose from.
First, you'll want an assortment of cheeses with varying textures, colors, flavors and shapes for visual appeal. Here are some suggestions of varieties to select:
Fresh and soft cheeses: Brie, Camembert, chèvre, mozzarella
Semisoft cheeses: Edam, fontina
Hard cheeses: Cheddar, Gruyère, Manchego, Parmigiano-Reggiano
Blue cheeses: Gorgonzola, Roquefort, Stilton
A rustic cutting board works well for presenting cheese along with complementing accompaniments like:
• chunks or slices of baguette or other crusty bread
• assorted olives
• fresh fruit including red grapes, apples or pears
• assorted crackers
• dried fruits such as figs, dates, apples or cherries
• nuts like cashews, almonds, pecans or macadamias
• honey, jams or chutneys
Finally, decorate your board to celebrate the season using natural items such as fresh herbs, whole cranberries or chestnuts.
Cheese is best served at room temperature. Assemble the cheeses on your board in advance and refrigerate, then let stand at room temperature 30 minutes before serving.
Add any accompaniments just before serving.