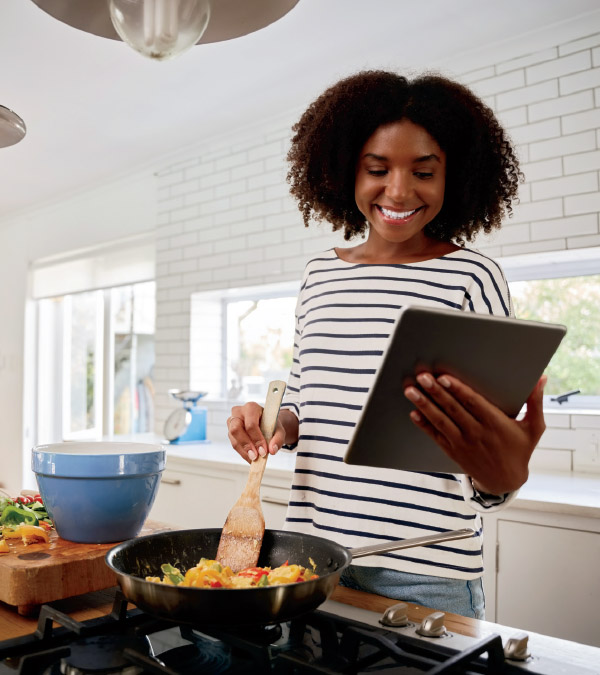 How to Simplify Cooking and Make More Savvy Meals

If grocery shopping, budgeting and meal planning stress you out, you're not alone. With a few creative approaches, it's possible to shop smarter, save time and money, and create savvy dishes that make mealtimes easier! Use these simple hacks to fuel your body with essential nutrients, all without breaking a sweat, the bank or your healthy habits.
Less Expensive Cuts of Meat with More Value
If meat is eating up your grocery budget, choose cheaper alternatives like chicken thighs instead chicken breasts and opt for pork loin instead of chops. Another trick is to look out for great bulk deals on meat. Don't worry about spoiling; you can freeze what you don't use!
Make-Ahead Meals
When all you have time for is a quick reheat, make-ahead meals can help you get dinner on the table in a flash. The trick is to make larger batches of meal components you're already cooking that you can revamp into a new, delicious dish. Try it out using our pulled pork recipes to the left!
Buy in Bulk
Be strategic about what you buy in bulk to reduce waste. Versatile, interchangeable ingredients are your best choices. Instead of small bags of brown rice, quinoa and couscous, opt for one good-deal bag of the most versatile grain or your favorite variety. You can also buy bulk of your favorite bean, tinned fish or frozen fruit.
Long-lasting Staples You Should Stock
Versatile pantry items can stretch your grocery budget and make dishes more economical and convenient. Use our list of ready-to-use ingredients to turn your pantry into a one-stop shop for affordable yet healthy, super quick meals.
• Canned Goods: Retaining their flavor and nutrition for years, canned goods are long-lasting staples that can take any meal the extra mile. Try beans, diced tomatoes, fruits, vegetables and pasta sauces.
• Stocks & Broths: Whether you need a soup base or want to stretch stews or casseroles, stocks and broths offer a quick way to bulk up meals economically while also providing gut-healing and high-protein nourishment.
• Pasta: No matter the shape or type, pasta is a comfort staple that can create countless flavorful and filling meals. Stock up on different varieties to keep meals fun!
• Lemons: With a shelf life of about three to four weeks in the fridge, lemons can perk up any dish with their juice or zest. If you can't use them in recipes before they spoil, clean your cutting board or garbage disposal with them.