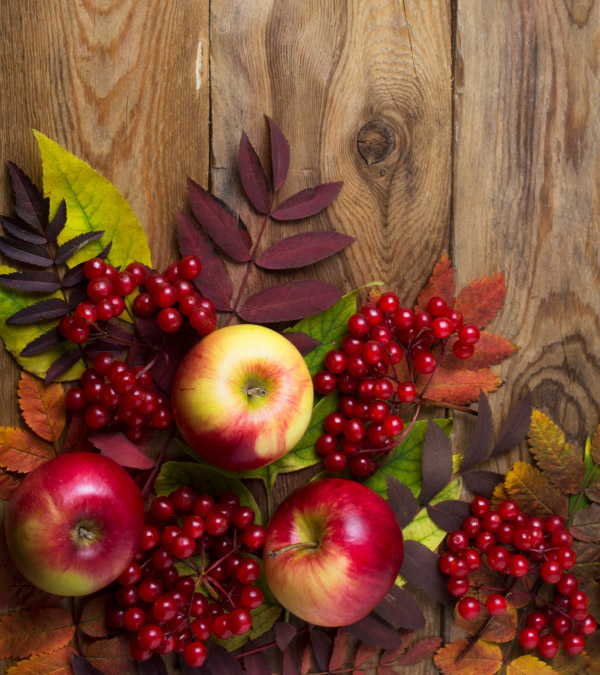 DIY Fall Decor

Apples are incredibly versatile! Not only are they delicious in sweet and savory recipes, but they also make wow-worthy fall decor! In celebration of this nourishing fruit, try the following simple directions to create rustic DIY fresh apple decor.

Apple Votive Holders Place a votive candle base on top of an apple and use a craft knife to trace a shallow cut around it into the apple. Then cut approximately one inch into the apple using the shallow cut as a guide. With a spoon, scoop out the apple flesh and insert the candle. To cover any gaps between the candle and apple, surround the candle with moss and artificial berry sprays and push them in to secure. These holders make beautiful centerpieces or elegant home decor.

Miniature Apple Vases Similar to votive holders, apples also make great mini vases to show off your favorite fall flowers. Using a craft knife, carve a circle around the top of the apple and scoop out the apple flesh with a spoon, ensuring the bottom of the apple is intact. Fill the hole with water, leaving some space at the top. Trim your flowers so the stem fits into your apple carving, allowing the flower head to sit comfortably on top. Make several apple vases using different apple and flower varieties for vibrant pops of color!

Apple Bouquet Fresh apple bouquets make delightful centerpieces, as well as gifts for hosts of any fall gathering. Insert three long bamboo sticks into the bottom of an apple; repeat so you have prepared a total of 6 apples. Working with a few at a time, gather the apples and secure the sticks together with wide craft tape to create a bouquet. Add sticks with English walnuts or evergreen sprigs for additional fall flair and secure with tape. Surround the bouquet with tracing paper and tie with ribbon or twine.