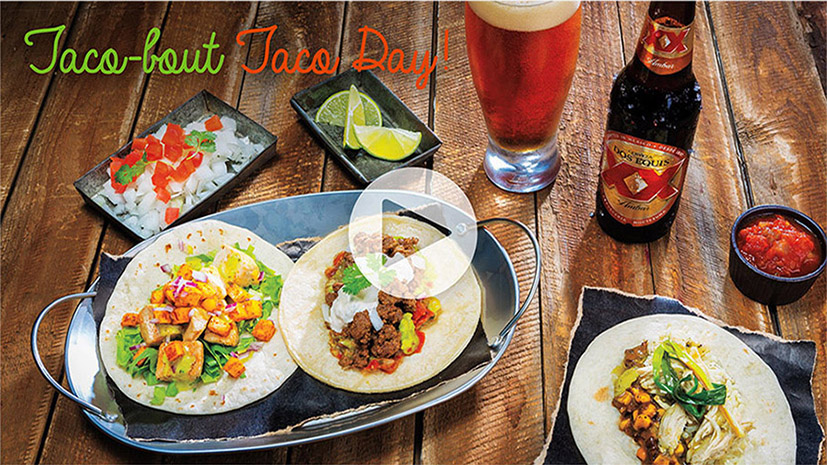 STREET TACOS 3 WAYS
Watch how to make our delicious Street Tacos!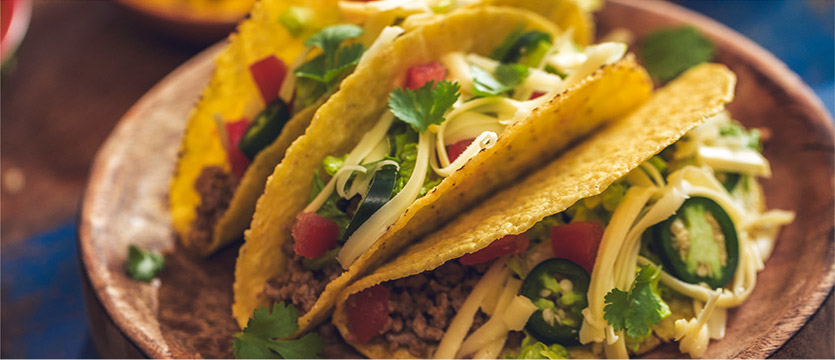 FIESTA TACOS RECIPE
click to expand +

Prep: 10 minutes
Cook: 10 min • Serves: 6
1
lb Ground Beef, or ground turkey
1
pkg McCormick® Taco Seasoning Mix, or 1 package McCormick® Taco Seasoning Mix 30% Less Sodium
3/4
cup Water
12
Taco Shells
Assorted Toppings, such as shredded lettuce, chopped tomato and shredded cheese
1.Brown meat in large skillet on medium-high heat. Drain fat.

2.Stir in Seasoning Mix and water. Bring to boil. Reduce heat to low; simmer 5 minutes, stirring occasionally.

3.Spoon into warmed taco shells. Serve with assorted toppings.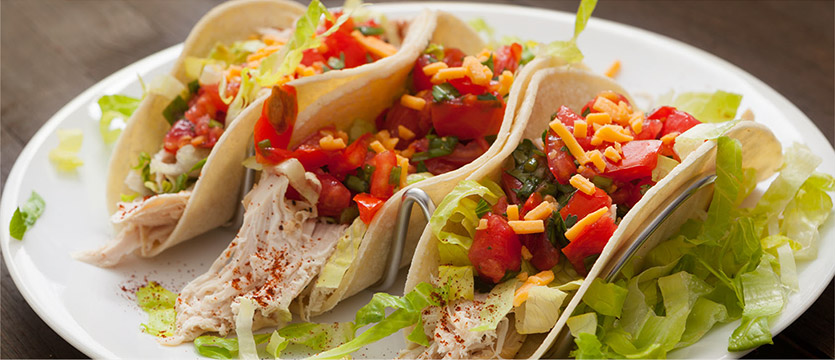 SPICY CHICKEN TACOS RECIPE
click to expand +

Serves: 4
8
Corn Tortillas
1
lb boneless, skinless chicken breasts , trimmed of fat and cut into thin strips
1/4
tsp Salt, or to taste
2
tsp Canola Oil, divided
1
lg Onion, sliced
1
lg Green Bell Pepper, seeded and sliced
3
lg Cloves Garlic, minced
1
Jalapeño Pepper, seeded and minced
1
tbsp Ground Cumin
1/2
cup prepared hot salsa , plus more for garnish
1/4
cup Chopped Fresh Cilantro
Sliced Scallions, chopped fresh tomatoes and reduced-fat sour cream for garnish
1.Preheat oven to 300 degrees F. Wrap tortillas in foil and bake until heated through, 10 to 15 minutes.

2.Meanwhile, season chicken with salt. Heat 1 teaspoon oil in a large heavy skillet over high heat until very hot. Add chicken and cook, stirring until browned on all sides, about 6 minutes. Transfer to a bowl.
3.Reduce heat to medium and add the remaining 1 teaspoon oil to skillet. Add onion and cook, stirring, until they start to brown around the edges, 3 to 5 minutes. Add bell pepper, garlic, jalapeno and cumin. Cook, stirring, until peppers are bright green but still crisp, 2 to 3 minutes more.
4.Stir in salsa and reserved chicken. Cook, stirring, until chicken is heated through, about 2 minutes. Remove from heat and stir in cilantro. Spoon into warmed tortillas and garnish with scallions, tomatoes and sour cream.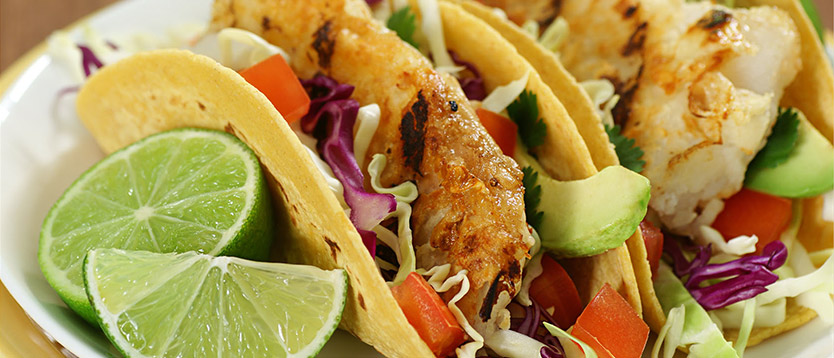 GRILLED FISH TACOS RECIPE
click to expand +

Serves: 6
4
tsp Chili Powder, preferably made with New Mexico or ancho chiles
2
tbsp Lime Juice
2
tbsp Extra Virgin Olive Oil
1
tsp Ground Cumin
1
tsp Onion Powder
1
tsp Garlic Powder
1
tsp Salt
1/2
tsp Freshly Ground pepper
2
lb mahi-mahi or Pacific halibut , 1/2-3/4 inch thick, skinned and cut into 4 portions
1/4
cup Reduced-Fat Sour Cream
1/4
cup Low-fat Mayonnaise
2
tbsp Chopped Fresh Cilantro
1
tsp Lime Zest
2
tbsp Lime Juice
1
tsp Sugar
1/8
tsp Salt
Freshly Ground Pepper to taste
3
cups finely shredded red or green cabbage
12
Corn Tortillas, warmed
1.To prepare fish: Combine chili powder, lime juice, oil, cumin, onion powder, garlic powder, salt and pepper in a small bowl. Rub adobo rub all over fish. Let stand 20 to 30 minutes for the fish to absorb the flavor.

2.To prepare coleslaw: Combine sour cream, mayonnaise, cilantro, lime zest, lime juice, sugar, salt and pepper in a medium bowl; mix until smooth and creamy. Add cabbage and toss to combine. Refrigerate until ready to use.

3.Preheat grill to medium-high.

4.Oil the grill rack or use a grilling basket. Grill the fish until it is cooked through and easily flakes with a fork, 3 to 5 minutes per side. Transfer the fish to a platter and separate into large chunks.

5.Serve the tacos family-style by passing the fish, tortillas, coleslaw and taco garnishes separately.